Smart Bio Links ™ The all-in-one marketing solution for your social media bio linking needs
Social Media is the new form of advertising but there is one MAJOR PROBLEM!!! You only get ONE BIO LINK on most social media platforms for your CTA (call to action). Social media experts know that it is imperative that you have a great call to action on every social media post and that call to action is most often "click the link in my bio!" In fact, what your bio link houses is 100% crucial to your lead generation and profitability efforts. Your link should be designed it such a way that it helps you make money with less effort, builds relationships on your behalf, helps you reach your goals and makes you money on auto pilot even while your asleep. So why should you be stuck with a link that can't deliver all your best content in one place? YOU SHOULDN'T ! Don't worry, we have the solution but first let's take a look at the competition so you can see why Smart Bio Links ™ is the right choice for you.
Compare other Bio Link products (Spoiler alert, they stink)
I'm Deana a social media coach and digital marketing strategist with PetrelliReviews.com. I have been searching for a solution to this exact problem for my clients for the past 5 years! Every time I found a third party application promising a fix, I quickly discovered a major flaw in their product. They required you to share your precious social media accounts passwords and credentials! Excuse me but WTH. Please tell me why a third party app simply making links on an ugly tree would need your password, THEY DON'T. Doing this could leave you vulnerable to hackers.
Weak performing link competitors
The other apps also looked boring, offering little to no customization. The competitors pages also lacked messenger options. How does that help your followers easily get in touch with you? It doesn't. Basic plain boxes with their branding not yours and no compensation for advertising them. What kind of one sided relationship it that? That's not my idea of a good collaboration.
I also noticed legal issues with the other guys apps, they had no way to post an obvious written disclosure for affiliate links on the landing page which is a great way to get in trouble with the FTC. The other guys also leave you high and dry stuck with lack luster pages that would make even the most loyal follower swipe right for something better.
Sure you could build a back page of your website for this type of content but then it could potentially kill your SEO ranking on Google due to high bounce rate, YIKES! Or maybe you could waste thousands of hours of your valuable time changing your bio link on every single social media platform with each new post but then your followers would not be able to find the right path to old content. HELLO DISTRACTION & PRODUCTIVITY KILLER.
Perhaps you could put a weak one in your bio but if you have no swipe up feature and ignore it, you would lose your chance to capture leads, affiliate income, links to that recent podcast or Youtube video etc. Why should you miss out and leave all that money on the table? YOU SHOULDN'T.
Ditch your old, tired, outdated link because you know you deserve better bestie.
Say goodbye puny underachieving links and hello to Smart Bio Links ™:
"The all-in-one marketing solution for your social media bio linking needs: "
Smart Bio Links ™ is a product that creates one link to an optimized landing page that houses multiple links of the users best content in one place to use in their social media bio. Put your best social selling strategy to work on our custom designed landing page with scrolling features. Done for you by a social media expert. You can even monetize like a BOSS with our built in affiliate program. Make money by promoting our product when it leads to a purchase off your referral. Don't have your own website, no problem we can still hook you up.
Smart Bio Links ™ is perfect for multiple social media platforms like Instagram, Facebook, Twitter, Tik Toc, Pinterest and more.
Want to crush it at social selling? See what Smart Bio Links can do for you!!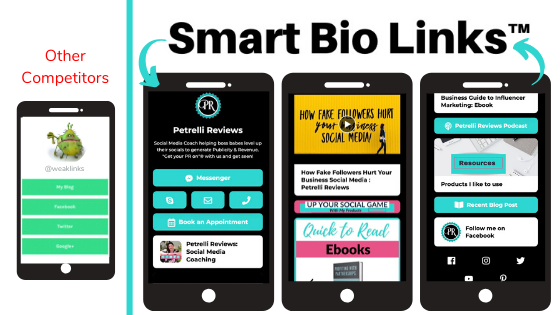 Smart Bio Links ™ features
Custom AF:
 Set yourself apart from the competition by going custom with branded colors, name, graphics, background images, gifs + more.
No more boring hard edge rectangles unless you're into that kind of thing.
Stay relevant by using a holiday background for each season.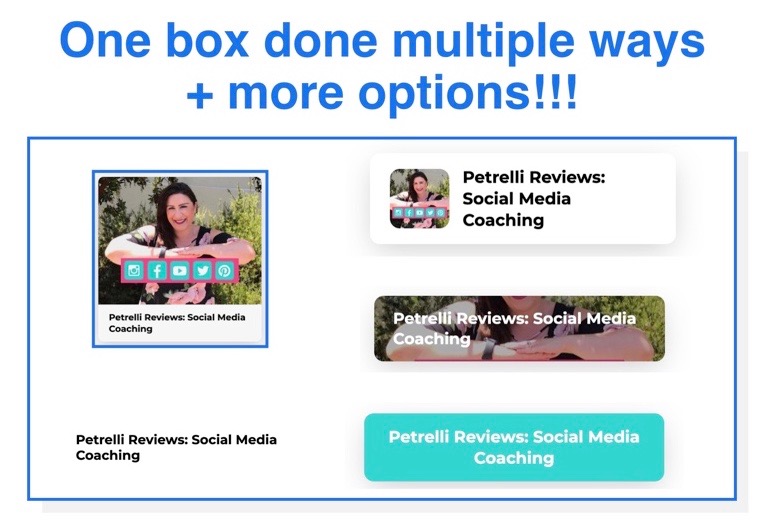 Promote:
Have a visual for your latest Youtube with a play button.
Rock a killer thumbnail going to your recent Podcast.
Promote that popular blog post with cover image to get traffic for your website.
Highlight your most popular products / services with their descriptions.
Direct your clients quickly to your newest promotions or seasonal items.
Monetize your socials with embeds from affiliate sites showcasing their products / services.
Capture Leads:
Offer your best lead magnets or freebies to grow your email list.
Segment your Audience:
Easily cater to your segmented audience based on their needs by suggesting the products or services that are best for each demographic.
Have buttons for different types of clients to get them to the content that is most relevant to them.
Collect Data:
Embed quizzes or surveys to see where your followers are at in their business journey so you can predict what products / services to offer next.
SEO Backlinks:
Give your website a Google boost by having backlinks directed from your Smart Bio Links ™ page.
Highlight with Pop Motion:
Give your followers a chance to consume your best content without going on a scavenger hunt.
Pop a specific item with motion to get your buyers attention and ignite your inner social selling badass.
More Connection Options:
Have multiple ways for clients to connect with you
Schedule client appointments directly into your booking system
Connect them to your Skype
Facebook Messenger integration
Whatsapp connectivity
Email
Phone
Website
Telegram
Viber
Simple Monthly Analytics:
Finally, easy analytics even your great grandma could understand.
In one glance get a quick snapshot of your monthly traffic emailed to you.
Safe:
No social media login password or credentials required for basic service.
Affiliate disclosure for FTC compliance
No Website, No Problem:
You don't need your own website to make money from your socials, BFF we've got you covered.
Our custom designed landing pages have scrolling features that will make your page look professional.
Promote a Poshmark closet,Mercari, Etsy, Paparazzi, MLM account, a shopping cart, an amazon influencer store or our affiliate link.
The options are endless!!!
Included with your Purchase:
30 Min Strategy session:
Let us do the heavy social strategy lifting.
Fill out a quick intake form
Get a 30 min. 1 on 1 social selling strategy session with a social media expert to determine your goals and content for the best results. (Done via phone or video conference)
Set Up Included:
We set it so you can forget it (up to 10 basic links and 5 messenger links included, must all be done at set up).
Relax while you get professional set up by a social media coach and digital marketing strategist.
Once we are done you only need to install the one Smart Bio Link ™ into your socials, that's it!
Sit back and enjoy the results.
Hosting:
We host your page for you so you don't have to pay for a costly domain. (First 6 months hosting included in set up, $10 a month thereafter)
Changes after initial set up:
Need to make a change? No problem. We will do it for you at a low cost ($5 charge per basic change after the initial set up)
Option to Upgrade: (*additional cost, social media login password /credentials required for this type of install)
Re-targeting visitors with Ads
Facebook pixel / Google Ads integration
Detailed analytics
You only get one link to crush it at social selling, our Smart Bio Links ™ will help you do that.
$199 (Limited time offer)

Here's a quick recap of what you will get: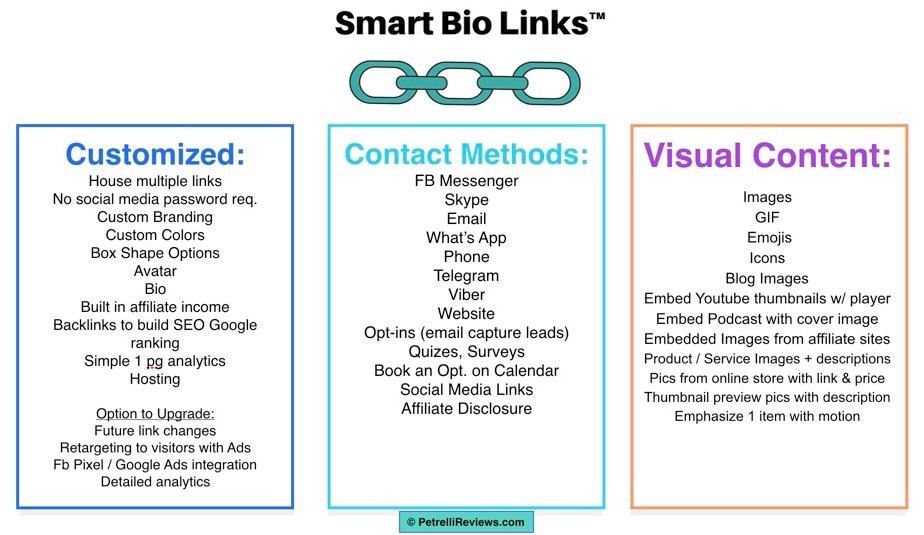 1. 30 Min. Social media selling strategy session ($75 value)
2. Custom Designed Smart Bio Links ™ page, 10 basic links ($299 value)
3. 6 months hosting ($120 value)
4. 1 page simple analytics, emailed 1x monthly upon request ($25 value)
5. 10% affiliate commission earning potential ($19.90 per sale value)
6. Upgrade later to integrate FB Pixel / Google Ads optional (for additional cost)
7.  Later upgrade to re-target visitors (optional upgrade, additional cost required)
8.  Option to purchase additional six months hosting plus five future changes now for additional $49 ($66 savings)
Total Value: $519 (not including other available discounts or potential to earn affiliate income $$$$)
"Give everyone link envy"
$199 (Limited time offer)

Ignite your inner social selling bad ass with Smart Bio Links ™ today
Have questions? Email us at [email protected]
Need to kick start your Instagram? Click here to check out our IG Starter Kit.